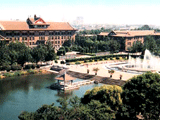 》Higher Education
  Nankai district is famous for its cultural education in Tianjin, some 16 higher institutions including the well-renown Nankai University and Tianjin University lie in the district, students in these universities are sharing more than half of student total in Tianjin. In which, 19 academicians live and work in Nankai District, sharing 82% of academicians in Tianjin. 21% of district's population has college or higher education.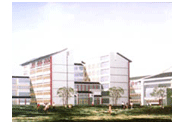 》General Education
  Nankai District has 43 middle schools, 47 elementary schools, 27 kindergartens. The Nankai Middle School using the geographic name of Nankai is enjoying reputation inside and outside China, it's not only one of the best schools in China, but also the school attended by two prime ministers of Chinese government, Zhou Enlai and Wen Jiabao. There are 43 academicians and 4 academicians with foreign nationalities in schoolfellows of Nankai Middle School. The model senior middle schools with largest volume and first class education equipment-New 43 Middle School, Exemplar School-Zhongying Elementary School lie in the district. The general education in the whole district has realized the goal of <<Chinese Education Reform and Development Program>> eight years in advance, attaining national standard in the first place, accessing the range of advanced national basic education.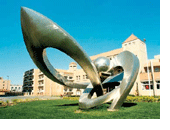 》Science and Technology Advantages
  The science research strength, science and technology corporations, science instruments and equipments, books information, science research results of Nankai District are highly concentrated. 63 municipal science researchinstitutes and 5 national science research centre, 11 engineering technology centres, 3 monitoring centres, and more than 2000 hi-tech corporations stationed in the district. According to the statistics of year 2000, the district has 24874 qualified technical personnel, occupying 12.9% of employee total, in which 949 peoples are receiving government allowance, and 8198 highly qualified personnel. Having integral science and technology development facilities, numerous scientific and technical services institutions gathered in the district. Northern Technology Transaction Market, Tianjin bibliotheca, Archives Institution, Production Promoting Centre and Career Creation Centre locate in the district. Nankai district is the science popularization demonstration district of China. The level of youth scientific and technical activities enjoys good reputation in the country, assessed of golden medal in National Youth Scientific and Technical Creativity Competition by several times.

》Nankai Hi-Tech Park
  Nankai Hi-Tech Park is the policy area of Tianjin Hi-Tech Industrial Park, covering an area of 12.22 square kilometers. Enterprises accessing in the Hi-Tech Park can enjoy the preferential policies supporting hi-tech enterprises in national hi-tech area, the Hi-Tech Park has now more than 2000 hi-tech enterprises, forming an integrated system basing on science researches and tests, technical information, technical results transactions, technical personnel exchanges, technical products processing and technical commerce, having particular advantage in the field of hi-tech industries development. Buynow Tech, Cybermart and numerous renowned IT corporations chose to set company in the Tianjin Science Commerce Street, attracted by the reputation of this street. The Tianjin Science and Technology Park is under construction, sharing an investment of one billion and two hundred million Yuan and covering an area of 75 Mu, having five main functions of network information, logistics services, technology gestation, technology market and personnel market. Anshanxi Road and Baidi South Road Technical Commercial Street, Nankai Industrial Park, Overseas Chinese Career Creation Park, University Technical Park and Private Owned Technical Park are located in the Park.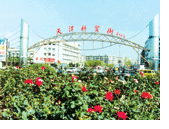 》Technical Commercial Street
  The Tianjin Technical Commercial Street locating in Anshanxi Road is the starting area of Tianjin Hi-Tech Industrial Park, established in 1988, the street created the first hi-tech enterprise of the city, and developed now more than 1000 hi-tech enterprises including Cybermart, Buynow Tech, companies spread alongside the Anshanxi Road and Baidi Road formed an ensemble of hi-tech enterprises and a distribution centre for electronic information products of Tianjin. Tianjin Technical Commercial Street is already a technical commercial brand well known in the country.