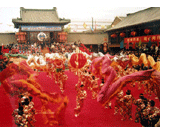 》The Historical and Cultural Vestiges
  The land of Nankai gestates rich and generous history and culture. The representative cultural vestiges such as the Palace of the Queen of Heaven, the Pavilion of Yu Huang, the Wen Temple, and Guangdong Assembly Hall explained the history and civilization of Nankai, and recorded the culture accumulation of Nankai. The Palace of the Queen of Heaven was built in the Yuan Dynasty, and was called "the Three Temple of the Queen of Heaven" in China with Meizhou Island Temple of the Queen of Heaven in Putian, Fujian, and North Harbor Chaotian Palace in Taiwan. The Wen Temple was built the first year of Zhengtong in the Ming Dynasty (1436), which is the most integrated, largest, and unique ancient architecture group with prefecture and county combined in China. Guangdong Assembly Hall was built in the thirty-third year of Guangxu (1907), made up of houses around courtyard and opera tower. The opera tower is the largest and the most intact classical architecture, its particular style and exquisite woodcarving are unusual in the whole country, and it was chosen as the national fine architecture of modern times in 1991. In order to improve the cultural taste of Tianjin, Drum-tower was rebuilt in 2001. Drum-tower adopts the architecture style of the Ming and Qing Dynasty, and gives a unique quaint feeling. Drum-tower Commerce Street was formally completed in September, 2003,which reappeared the flourishing vision of the ancient area around the city gate 600 years ago, adding a new sight for Nankai and Tianjin.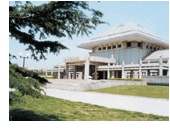 》Modern Times Culture
  Nankai district has plentiful cultural touring resources. Nankai is a history culture site and also an important birthplace of northern culture. In the area of folk craftwork, the lifelike painted clay figurine "Clay Figurine of Zhang", the realistic painted kite "Kite of Wei", the exquisitely carved tile "Tile Sculpture of Liu" may be rated as the three perfections of Tianjin craftworks. Nankai district has profound culture background, plentiful cultural resources, having numerous cultural touring sites, such as historic vestiges and sites, famous people's former residences, museums, exposition halls, etc, numerous revolution sites and historical vestiges are reflecting the revolution history and traditional folk-customs. Nankai is a district with glorious revolution historical tradition, leaving the footprints of countless revolutionists and revolution sites. Including Li Dazhao Martyr Museum, Consciousness League, Revolution Activities Memorial commemorating the activities of young Zhou Enlai when he was in Tianjin, Zhou Enlai, Deng Yingchao Memorial, etc.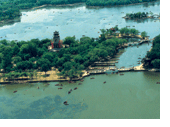 》Cultural Touring Base
  The cultural touring industry is showing its advantage. Forming gradually the folk-custom demeanor touring area basing on Drum-tower Commercial Street and Ancient Culture Street, the Tianjin Tower, Shuishang Park, Sport Centre composed the main scenery of urban touring commercial area, the touring sightseeing line using Drum-tower and Weijin Road as main line is taking further steps to establish the importance of cultural touring base in our area.